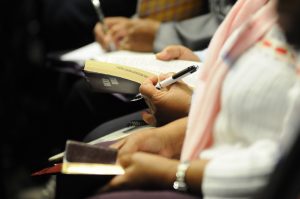 Sunday Worship Service
During our 9:30am Sunday Morning Worship Celebration, HHWC celebrates our love for and honor to God through music, fellowship and the Word of God.
Sunday School
Prior to our Worship Celebration on Sunday morning at 8:00am, join us as we come to study God's Word together in a group setting. There are sessions for children and adults alike. All are welcome to attend.
Real Talk from the Word Bible Study
All are welcome to join us every Thursday at 6:30pm as we gather together to topically and exegetically study God's Word in a setting that allows for sharing and discussion. Past topics of study included the Lord's Prayer, Tithing, Spiritual Disciplines, "Respectable Sins", and "Twisted Verses".
Power Hour of Prayer
Prayer is how we communicate to God and He speaks back to us. Scriptures that we should always pray. Every Saturday at 7:00am, the doors of HHWC are open for prayer. However you pray – sitting or kneeling, walking or stretched prostrate, silently or out loud – is welcome during this time to reach heaven in a way that you know how.
New Member Classes
After a person expresses a desire to become a member of this ministry, they are expected to attend a four-week New Members Course that allows a person to learn the principles, mission and vision HHWC is based on. Please see the Ministry Administrator for the next scheduled class.
New Converts Classes
If a person gives their life over to Christ and receives the gift of salvation, it is strongly recommended that they attend a New Converts Course that allows a person to learn the fundamental basics of Christianity. This course is required if the person desires to be baptized by Pastor Bryant.